MATINS PHARMA is a leading supplier of CEFPODOXIME 200 mg DT Tablets in PCD Franchise.
Cefpodoxime 200 DT is available as AMPOD 200 brand in PCD Franchise by Matins Pharma.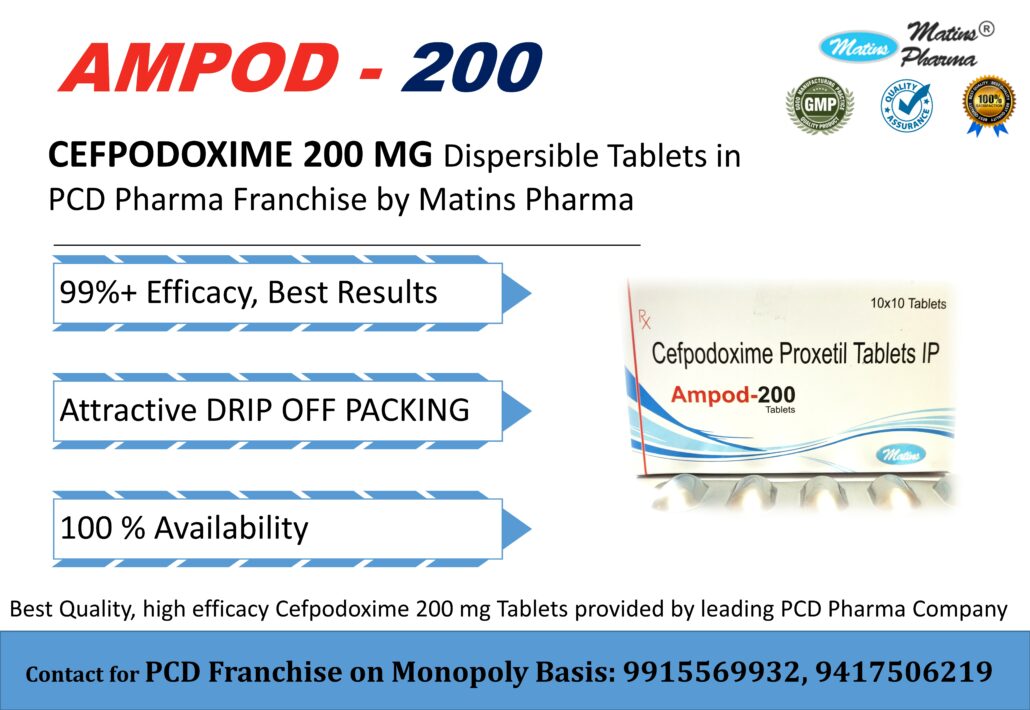 Description for CEFPODOXIME:
Cefpodoxime also known as cephalosporin antibiotic is a bacteriostatic and bactericidal used only in case of bacterial infections. It is not used for viral infections (like common cold, flu etc). It is active against most Gram positive and gram negative organisms(with major exceptions of Pseudomonas aeruginosa, Enterococcus, and Bacteroides fragilis).
It is generally used as oral continuation therapy when intravenous cephalosporins (such as ceftriaxone) are no longer necessary for continued treatment.
AMPOD 200 i.e. CEFPODOXIME 200 mg under Matins Pharma PCD Pharma franchise is provided in Dispersible tablet with very high efficacy and excellent results.
Details for Cefpodoxime 200:
Composition: CEFPODOXIME 200 MG
Type of Product: Dispersible Tablets
Type of Packing: ALU ALU – with attractive UV Drip Off printing and embossed brand name on outer carton
Indications for using Cefpodoxime 200:
CEFPODOXIME 200mg (AMPOD 200) tablets are generally prescribed for infections caused by both Gram-positive and Gram-negative bacteria. Used for treating the following:
Bronchitis – AMPOD 200 (Cefpodoxime 200) is used for treating the inflammation of the lining of the bronchial tubules caused by Streptococcus pneumoniae, Haemophilus influenzae, and some Mycoplasma pneumoniae
Cystitis – Used in cases of bladder infections
Gonococcal Infection – Cefpodoxime 200 Tablets are used to treat Sexually transmitted bacterial infections like Gonorrhea
Pneumonia- Cefpodoxime is generally recommended in pneumonia (type of lung infection caused by Streptococcus pneumoniae, Haemophilus Influenzae, etc).
Sinusitis – Used in Sinusitis
Pharyngitis/Tonsilitis – Cefpodoxime is recommended for treating Tonsilitis/Pharyngitis (inflammation of the tonsils/throat), caused by Streptococcus pneumoniae and Haemophilus influenzae.
Cefpodoxime has the following adverse impacts, so the patients need to be careful:
Cefpodoxime has different side effects on different people based on their body metabolism however, these are some of the most common (both major and minor) side effects observed
[https://www.practo.com/medicine-info/cefpodoxime-49-api]
Diarrhea
Abdominal pain
Dark or Clay colored stools
Decreased appetite
Blurred vision
Acid or sour stomach
Excessive gas in stomach
Joint pain
Change in taste
Change in color/odor of vaginal discharge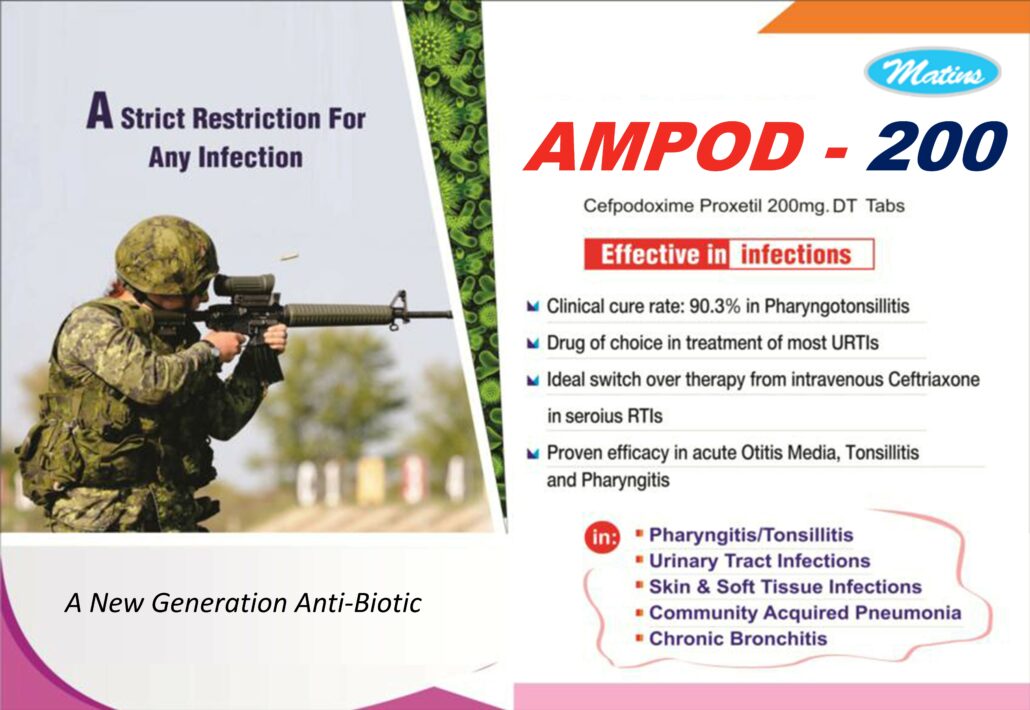 Matins Pharma, one of the leading Pharmaceutical Company provides the best quality products like Cefpodoxime 200mg in franchise on monopoly basis.
Under the PCD Pharma franchise for Cefpodoxime in India, you will have exclusive rights to sell your products in the agreed territory without any infiltration.
Why Matins Pharma is the best PCD Pharma Franchise Company in India:
100 % Quality Assurance
Direct Dealing with Company Owners
Very High Efficacy, WHO/GMP/GLP Certified Products
Wide Product Range
Best in Class Packings with UV Drip Off Finish
High Margin Products with genuine rates
Same Day Dispatch with trusted delivery partners
Fair and Transparent Dealing – 100 % Commitment to agreement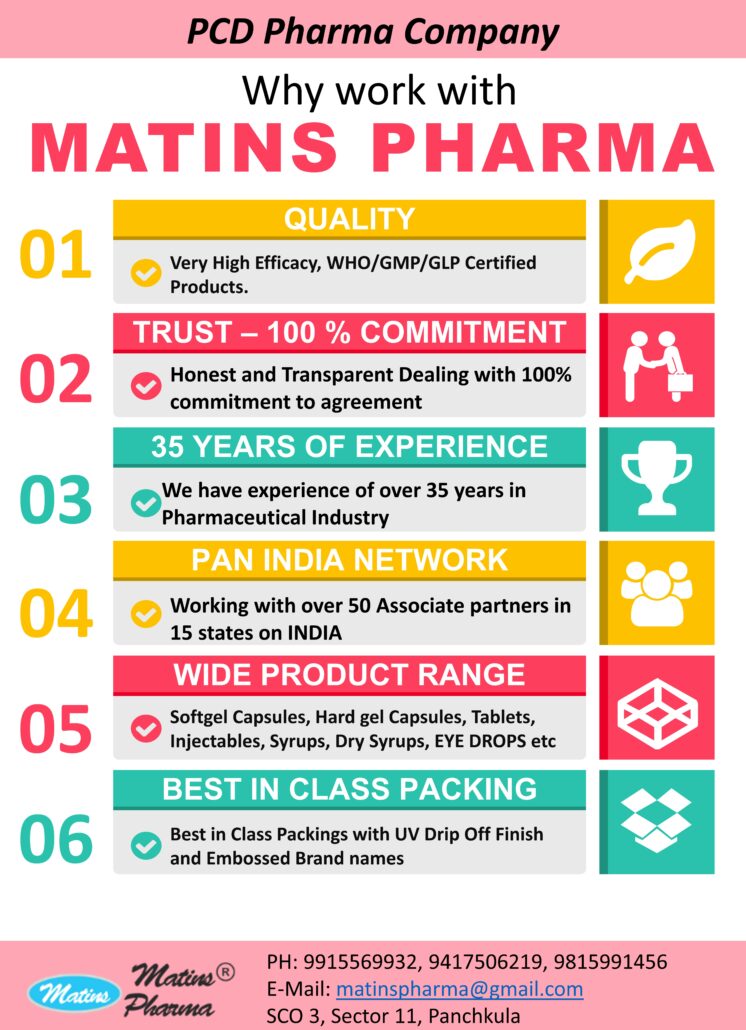 Send Query For PCD Pharma Franchise