Telmisartan in PCD Pharma Franchise
Telmisartan 40mg in PCD Pharma Franchise
Brand Name : Telsu – 40
Composition : Telmisartan 40mg
Type of Product : Tablet
Packing : 10×10 ALU
GST% : 12 %
Range : Cardiac Diabetic
Introduction of Telmisartan 40mg
Telmisartan 40mg (Telsu – 40) Treats high blood pressure (Hypertension), prevents heart strokes, attacks and heart failure.
How Telmisartan 40mg Works
Telmisartan 40mg is known as angiotensin receptor blocker (ARB). It works by relaxing the tightened blood vessels by blocking the action of a chemical namely angiotensin II. Telmisartan 40mg helps lowering the blood pressure, and hence heart pumps more efficiently allowing the blood to flow more smoothly to different organs.
Side Effects of Telmisartan 40mg
Telmisartan 40mg can cause
Nasal Congestion
Diarrhoea
Sinus Pain
Back Pain
Don't take anti-inflammatory medicines with Telmisartan 40mg without consulting your doctor.
 The level of potassium may elevate by taking Telmisartan 40mg. Don't take potassium supplements or potassium rich foods without doctors' consultation. Increased potassium level in blood is called hyperkalemia. So regular monitoring of potassium level in blood is must while taking Telmisartan 40mg.
Telmisartan 40mg can elevate urea, creatinine in your blood, so your doctor may get all the tests done on regular basis to monitor.
Don't sit or lie down for long time, it may make you feel dizzy for few days.
Remember to take it at the same time every day.
Telmisartan 40mg can only control high blood pressure, it does not cure it. Even if your blood pressure is controlled after taking it for few days don't stop taking it without consulting your doctor. Stopping it suddenly could be very dangerous for you. It may increase your blood pressure. You might have to take it lifelong. Consult your doctor for any concerns regarding Telmisartan 40mg.
If you have Kidney problem, you can still take Telmisartan 40mg but under proper guidance of your doctor. Your doctor may advice you to get your tests done to check the level of creatinine in order to monitor functioning of your kidneys. Telmisartan 40mg may deteriorate your kidney Functioning so talk to your doctor immediately in case you notice swelling in your hands, feet, ankles or sudden weight gain.
Telmisartan 40mg can be taken even if you are overweight because it will not cause weight gain infact studies have shown that Telmisartan 40mg may decrease the fat tissues.
If you are diabetic and you are already taking some medicine for suger control then you must consult your doctor before taking Telmisartan 40mg. He may advice you to proper monitor the sugar level in your blood.
If you are taking any anti-inflammatory medicines like ibuprofen while taking Telmisartan 40mg, you must keep regular check on your kidney functioning. Ibuprofen may decrease efficiency of Telmisartan 40mg and can elevate the side effects of ibuprofen.
Dosage of Telmisrtan 40mg
Telmisartan 40mg is generally recommended to be taken once daily, either in the morning or evening. Try to take it at the same time every day.
How long does it take for Telmisartan 40mg to work
The maximum benefit can be seen within 4-8 weeks of starting the treatment.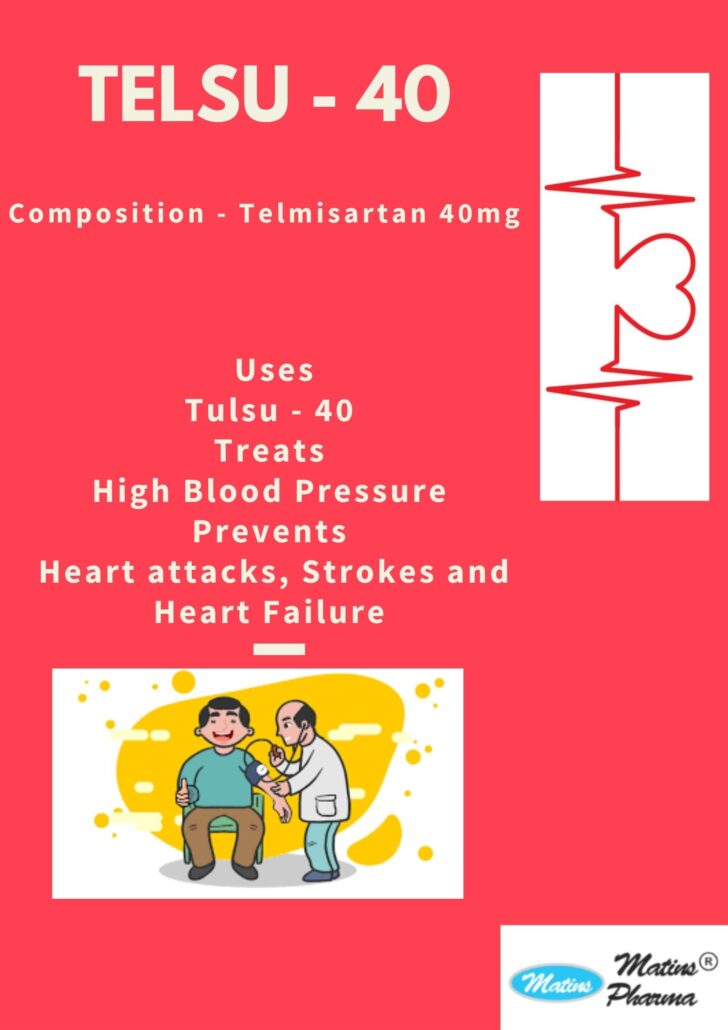 Matins Pharma is one of the fastest growing Telmisartan Tablets Manufacturers suppliers pan India. 
WE AT MATINS PHARMA AIM FOR :
100% quality assurance with high efficacy and excellent results
Improved delivery experience and shorter delivery times
Best in class service levels through regular communication with our Supplier partners and sharing the same in a transparent manner
Customer satisfaction and understanding the latent needs of the our business partners
Enriching our product mix by each passing day so as to provide you everything under one roof
Why Matins Pharma is among the best PCD Pharma Franchise Company in India:
100 % Quality Assurance
Direct Dealing with Company Owners
Very High Efficacy, WHO/GMP/GLP Certified Products
Wide Product Range
Best in Class Packings with UV Drip Off Finish
High Margin Products with genuine rates
Same Day Dispatch with trusted delivery partners
Fair and Transparent Dealing – 100 % Commitment to agreement
Don't waste your time and team up with Matins Pharma for the most affordable, genuine and high quality products.
Reach us at: Matins Pharma
Address: D-1A, Ahluwalia Complex Vill. Fatehpur, Sector 20, Panchkula, 134117, Haryana
Contact Number: 82840 10553, 99155 69932, 94175 06219India
Apart from Telmisartan Tablets, we at Matins Pharma provide wide range of quality products. We offer the following ranges in PCD Pharma Franchise: