PEDIATRIC PRODUCTS FRANCHISE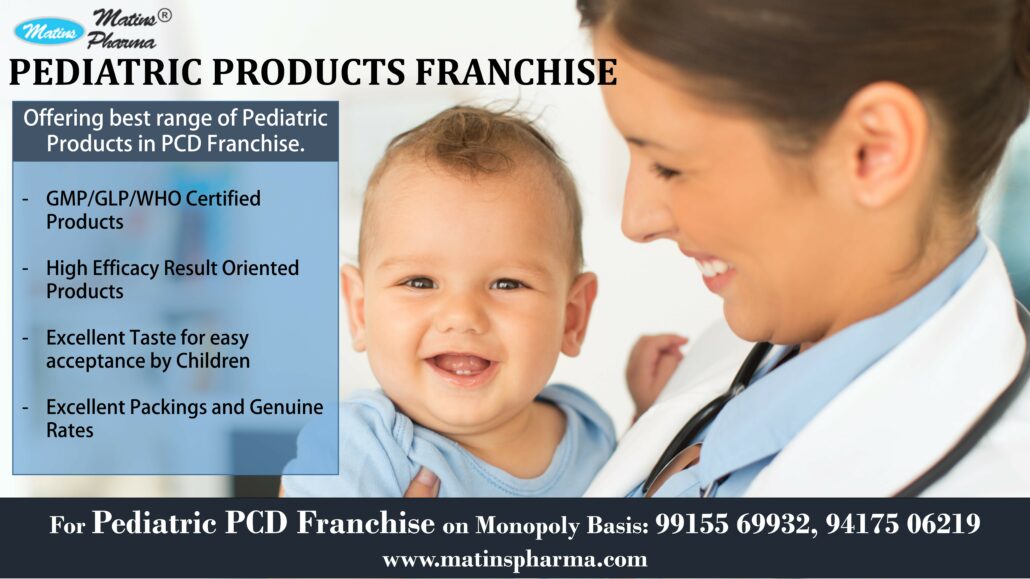 What is Pediatrics?
As per the 'American Academy of Pediatrics' it is the specific branch of medical science which deals with the physical, mental and social health of children from the time of their birth till their adulthood.
Pediatrics includes wide range of health services including preventive healthcare services and diagnosis & treatment of acute and chronic diseases.
Who is a Pediatrician?
A pediatrician is a term which generally includes 3 types of doctors:
Primary care pediatricians
Pediatric medical subspecialists
Pediatric surgical specialists
However, a pediatrician is not limited only to the above mentioned 3 types as the field is evolving and so is the types of doctors in pediatrics. They are the experts who can understand the new normal for the infants along their growth cycle. Since the patients in pediatric segment of medication are generally neonatal/infants or children below the age of 7 years, the doctors need to completely understand the needs and decide upon the dosage of medicines. The required dosages of the pharmaceutical products for treatment keeps on changing as per the age and the stage of development. 
What does a pediatrician do?
1. Physical examination of Neonatal/Infants, children below the age of 7
2. Track growth, behavior, and skill development as per age band
3. Give Pediatric vaccinations
4. Diagnose illnesses, infections, injuries, and other health problems
5. Inform parents about their children health and nutrition
What is Pediatric Medicine?
As discussed above, the body of a neonate/infant is not only small physically, when compared to adults but also a lot different in terms of physiology therefore the medicine in pediatrics is specially designed for infants/children. Pediatric medicine is a combination of pediatric and emergency medicine. Kids medicine products are manufactured under strict quality controls as the kids are extremely sensitive to medicines as they are yet to develop a fully functioning defense mechanism.
How is pediatric medicine different from normal medicine for adults?
Pediatric range of medicines also known as baby products differ from the normal medicine as the neonate/infant cannot swallow the medicine and must be either injected or given in a liquid/drops solution form.
It must be pass through extra quality checks so as to be safe for children as that stage, the patients are highly reactive to harmful medicines/substances.   
Unique Features for pediatric medicines
Since the medicine cannot be swallowed by the pediatric patients special needs to be taken care while giving them injectables or oral medication like drops syrups or suspensions.
1.       Palatability
It is one of the most important factors because if the taste of the medicine is not good, the patients i.e. infants/babies/children will not be very receptive to take the medicines.
2.       Stability
Stability of baby products being given to the infants is very important so that the given dose of medicine has as positive impact.
3.       Efficacy
The medicines need to deliver the best possible results as per the dosage to have the positive desired impacts. This is very important for the health of the pediatric patients.
4.       Attractive Packings
The packaging of the medicine should be such so that the neonate is attracted towards the product and not shies away from medicine. 
Why to take PEDIATRIC PRODUCTS PCD FRANCHISE ?
1. Pediatric Products are easy to handle and transport.
2. Not much pharmacology involved behind the products. 
3. The margins are good in Pediatric Products.
4. Genuine Products are provided by Matins Pharma Pediatric range. 
In addition to the above mentioned points, it is important to consider that India is the 2nd most populous country in the world with a population of over 120 Crores. As per a survey, India will take over from China as the most populous country by 2030. The Infants and kids form the major portion of this population thus giving huge opportunity in Pediatric PCD Franchise. 
As per a recent study by EY, the pediatrics products franchise market will have a market size of 100 Billion dollars by 2030 as the population of India Increased. 
Matins Pharma Offers Best Pediatric Products Franchise
Pediatric products in PCD Franchise – MATINS PHARMA is regarded as the benchmark for pediatric medicines because of its wide range of high quality and safe pediatric products for children. MATINS PHARMA, the best PCD Pediatrics Franchise PCD Company is supplying its wide range of pediatric products across the country. The Pediatric products offered by Matins Pharma are widely accepted in India because of their High Efficacy and Affordable rates.  
We are an ISO 9001-2015 certified PCD Pharma Company who are delivering best pediatric range products to our business associates creating maximum value and profits for them.
Matins Pharma Pediatric products franchise is in huge demand in India due to the following reason:
 MATINS PHARMA is offerring high quality pediatrics products in franchise. In indian market we are offer the best pediatric range franchise with all products which are WHO/GMP/GLP certified. 
The Pediatric Product Range includes: 
TABLETS / CAPSULES

LIQUIDS/SYRUPS

DRY SYP

DROPS

TOPICALS

DENTALS

SACHET

PROTEIN POWDER

EYE DROPS

INJECTIONS
Matins Pharma is regarded as the best pediatric franchise because of the following reasons: 
1. Best Quality – High Efficacy Pediatric Products
2. WHO/GMP/GLP Certified Pediatric products
3. Excellent Taste of pediatric products in franchise for easy acceptance by children
4. Attractive Packings with genuine rates 
5. 100 % safe products for chidlren which undergo strict quality checks before being introduced to market.
6. Best Promotionals support for easy acceptance by RMPs and Doctors.
7. 100% monopoly to avoid any competition and infiltration in your territory.
8. Handsome incentives to our business associates on meetin their annual targets.
9. Timely delivery of all products at all the times.
Last but not the least, 100% commitment on agreed terms on monopoly and our continuous effors to launch the new and innovative pediatric products in franchise to keep you ahead.
PACKINGS OF PEDIATRIC PRODUCTS AND UPCOMING PRODUCTS