Matins Pharma PCD Company is among the best Derma Franchise Companies in India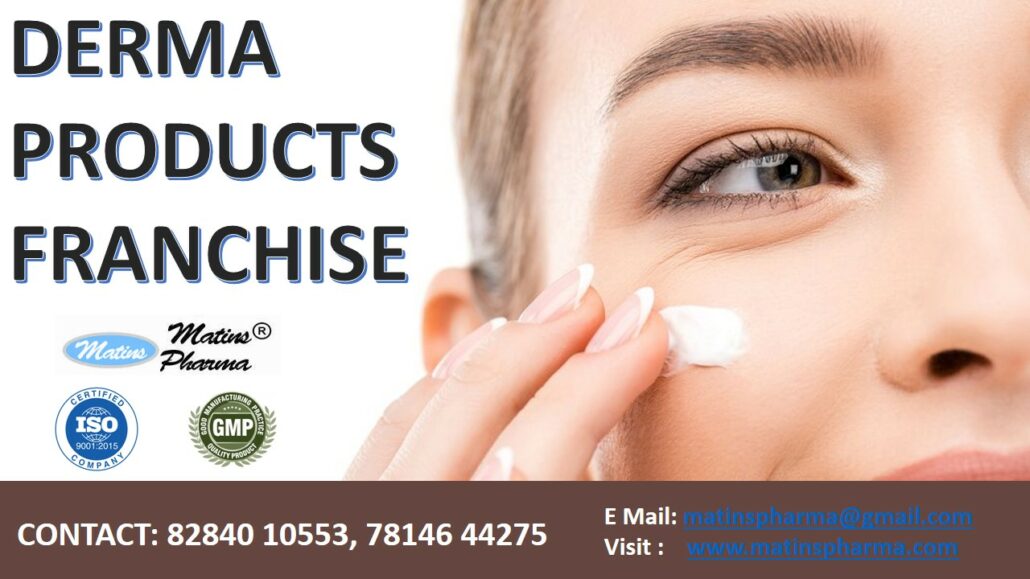 Derma Product Range in PCD Franchise
Derma Range Products – Derma Products also known as Dermatology Products deals with the skin care products. Derma range is the branch of medicine which deals with issues and diseases associated with Skin, Nails and Hair. These products are high quality, result oriented safe solutions for skin diseases like acne, fungal infection, eczema, sunburn, hair loss and many more. Derma range comprises of both dermatological and cosmeceutical products.
Derma Range generally has the following product types:
Creams
Ointments
Soaps
Gels
Lotions
Serums
Dusting Powders
Tablets
Capsules
Face Wash etc.
Derma Range preparations need to be done under strict quality control as per described quality standards.
Derma PCD Franchise means PCD franchise of dermatology and cosmetic products. Derma range of products is the most sought after by franchisers across India. The basic reason is the rapidly growing demand for Derma products due to the ever increasing patients with dermatology ailments. Parties across India are looking for high quality, result oriented fairly priced products in Derma PCD Franchise. Your search for the best Derma PCD Company ends here with MATINS PHARMA DERMA PCD FRANCHISE.
We are going to offer quality assured, fairly priced Derma range products in PCD Pharma Franchise on Monopoly basis. We are looking for PCD Franchise Partners on Pan India Basis. We are looking for Derma PCD Franchise in Maharashtra, Tamil Nadu, Andhra Pradesh, West Bengal, Assam, Rajasthan, Delhi, Mumbai, Bangalore etc. to start with.
Benefits of association with MATINS PHARMA DERMA PCD Range –
Quality Assurance
Product availability at all times
Fairly Priced Products
High Profit Margins
Exclusive Selling rights in your area with 100% monopoly
Promotional Support
Wide Product Range
Best in Class Packaging
State-of-the-art Manufacturing Collaboration
Rich experience in PCD Franchise
ISO 9001:2015 Certified PCD Pharma Franchise Company
Reliable Service with Same Day dispatch
The Derma Range in PCD Franchise by MATINS PHARMA, the best Derma Franchise Company in India, offers both general dermatology and cosmetology products in the PCD Franchise Model of business.
With exclusive and unique products Matins Pharma offers a wide basket of products in Derma PCD Franchise. We at Matins Pharma understand the needs and requirements in Derma PCD and our products are made as per the international standards. Skin is one of the most sensitive part of Human Body and precautions need to be taken while manufacturing Derma Range Products. It is because of all these reason that MATINS Pharma is among the best Derma PCD Companies in India.
MATINS PHARMA is dedicated to provide the best to its PCD Franchise associates and always striving to create maximum benefits for its Franchise Partners.
For Best quality Derma PCD Franchise Contact:
MATINS PHARMA
7814644275, 8284010553
SCO : 3, Sector – 11
Panchkula – Haryana, Near Chandigarh
We offer the following ranges in PCD Pharma Franchise: 
Gynecology Product Range

Herbal Products Range

Opthalmic Product Range
Cardiac-Diabetic Product Range
Advantages of dealing in Derma Range Products
Derma Product Range is in very high demand
High profit margings in Dermatological products
Derma segment in PCD Franchise offers you wide product range
With wider product portfolio you get a better grip on market
Cosmetics in derma range of products give you a better profit margins as people in India have more disposable incomes in the recent past
Growth in the indian derma segment product range requirement due to increasing population trends. 
Our Products in Derma Range Franchise